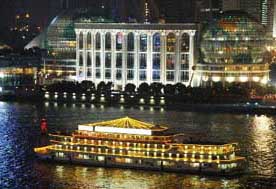 Chinese people celebrated the Mid-autumn Festival or Moon Festival yesterday in traditional style.
While in Shanghai, people made pleasure boats to exhibit on the Huangpu River (Left photo).
The Mid-Autumn Festival falls on the 15th day of the 8th lunar month, usually in October in Gregorian calendar.
People selected the August 15 to celebrate because it is a season when crops and fruits are all ripe and weather pleasant. On the Mid-Autumn Festival, all family members or friends meet outside, putting food on tables and looking up at the sky while talking about life.
People in different places follow various customs, but all show their love and longing for a better life. Today people will enjoy the full moon and eat moon cakes on that day.
People in Hong Kong held a traditional spectacular lantern display for the carnival.
With fine weather and a clear sky, the moon was at its fullest on Tuesday.
It's only the 40th time in 100 years that it reached this state on the night of the festival.
Hubei, the Yellow Crane Tower or Huanghelou in Chinese
Macao, the firework show
Shandong
Xiamen
(CRI.com & China.org.cn September 29, 2004)