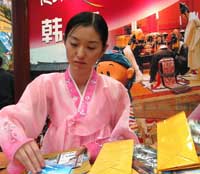 Foreign countries promoted their tourism industries at the four-day China International Tourism Mart (CITM) in Kunming, capital of southwest China's Yunnan Province.
Publishing material in simplified Chinese is important for the tourism industry in his country, said Horst Lommatzsch, manager of North Europe and Asia Pacific region with the German National Tourism Office, while handing out material to visitors to his booths.
"We handed out some 20,000 pamphlets on Canadian scenic spots and shopping guides in one morning. I felt like I was participating in a book show. And the real exhibitor was my nation," said Judd Buchanan, special advisor of Canadian Tourism Commission.
Lommatzsch said his country started from selling products to China, then attracting Chinese for shopping and buying museum tickets in his own country. The trend reflected China' s rapid economic growth and strong buying power, he said.
"Ten years ago, Switzerland focused on Japan and the four Asian dragon nations for tourism promotion. In recent years, management in China has gained more importance, which meant the growing number of Chinese tourists were creating more prosperity for the whole world," said Michel Ferla, deputy director of Switzerland Tourism.
From July to October this year, China's international air routes were kept busy, with over 70 percent being Chinese passengers. The seven-day National Day vacation also witnessed flows of outbound Chinese tourists.
"This is my third time to promote Australia in China. Not long ago, Chinese tourists to Australia surpassed one million. We went all out for CITM in Shanghai and Kunming, in the hope that the number can reach two million soon," said Peter Smith from Australian Gold Coast Travel Agency.
Nearly 10,000 professionals from 49 nations and regions took part in the mart.
"Every year CITM was full of friendship and cooperation. World tourism will gain from China's richness," said Wu Di, a representative of the Italian Tourism Board in China.
(Xinhua News Agency November 24, 2003)