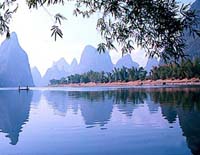 Some 150 tourism officials and experts from the World Tourism Organization (WTO) and its member nations are attending a three-day seminar on regional cooperation in tourist destination development and management, which opened Tuesday in Guilin, a famous scenic city in south China's Guangxi Zhuang Autonomous Region.
WTO member nations will display and exchange their models, expertise and experience in tourism development, making a big step forward for their collaboration.
The seminar is of great help for the advancement of China's tourism cooperation with other countries, picking up the country's pace towards becoming a world tourism giant, according to officials of the National Tourism Administration.
In 2002, the Boao Forum for Asia Tourism Conference was held successfully in Guilin. About 500 delegates from 32 Asian and European countries and 10 international organizations attended the conference.
More than 10 million Chinese and overseas tourists come to visit Guilin every year.
(Xinhua News Agency December 4, 2003)