They are normally found in gardens and in vases, but now it's fashionable to have flowers on your plate. Restaurant chefs and innovative home cooks are discovering that the plants' colorful petals add a touch of elegance to a dish. Producers of edible flowers are still hard to find. But there is one small company near Marseilles in France who is supplying petals for food to local markets.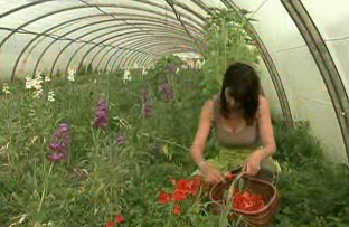 Virginie Makeff started out growing organic wild flowers for floral arrangements. But Virginie's flowers not only look good, they taste good too. Her greenhouses may look a bit untamed, but she is determined to grow an organic product and control weeds without using chemicals.
Virginie Makeff, flower grower said, "The advantage is that we do not use pesticides or chemicals for our flowers, out of respect of the soil. So the fewer chemicals you use the better it is. And also the Earth gives back, it is very generous when you respect it and It gives you back a hundred times more, so there are no problems."
Her husband, Philippe Makeff, sells their edible flowers at the organic market in Marseilles. One of Philippe's regular clients is La Passarelle restaurant, situated in the old part of the city, near the docks.