Editor's note: The watertight-bulkhead technology utilized in Chinese junks equips ocean-going vessels with watertight compartments. With this technology, if one cabin of a ship is damaged during navigation, seawater is prevented from flooding into other cabins and the vessel will stay afloat.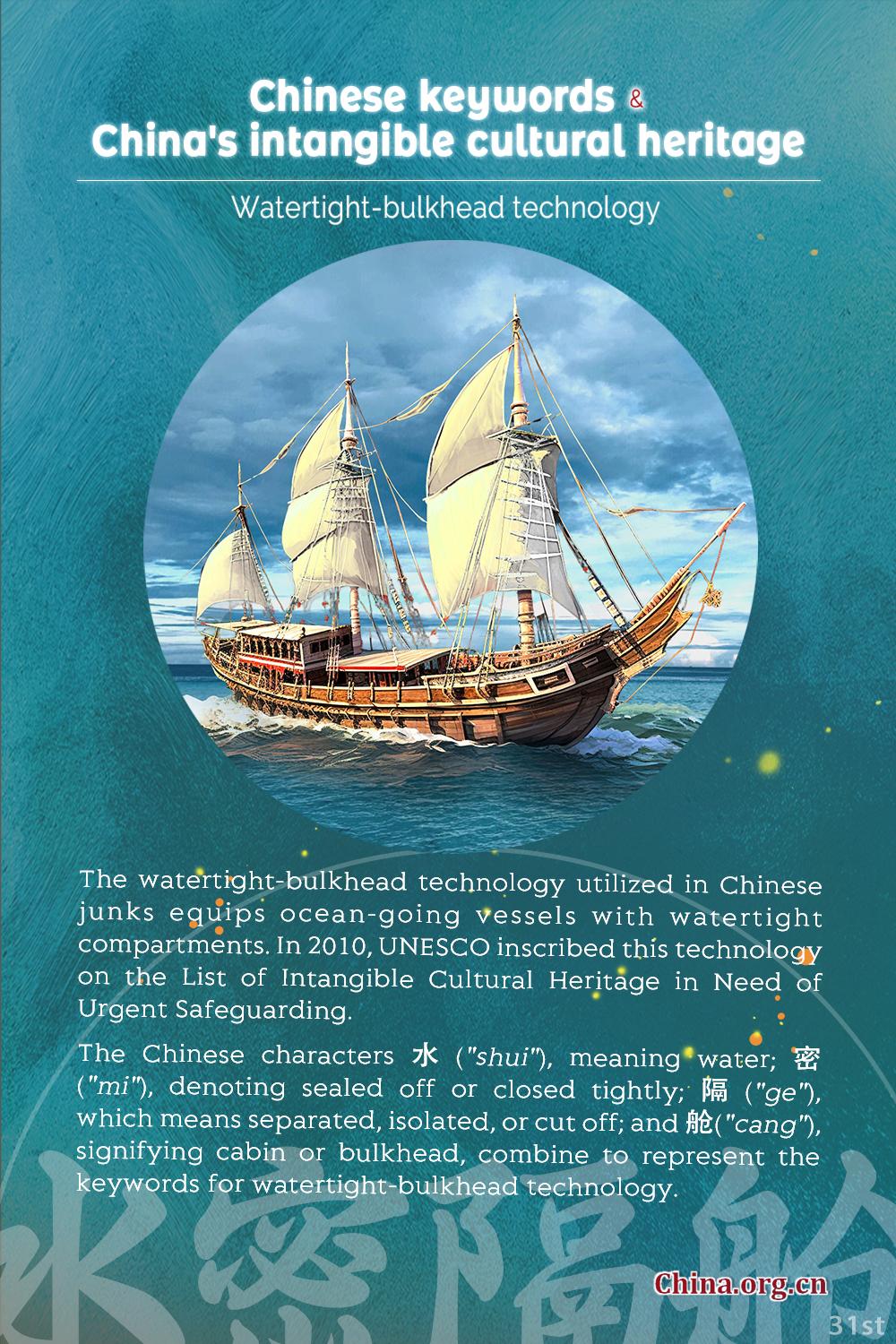 UNESCO inscribed this technology on the List of Intangible Cultural Heritage in Need of Urgent Safeguarding in 2010, when only a few masters had full command of the technology.
The Chinese characters 水 ("shui"), meaning water; 密 ("mi"), denoting sealed off or closed tightly; 隔 ("ge"), which means separated, isolated, or cut off; and 舱("cang"), signifying cabin or bulkhead, combine to represent the keywords for watertight-bulkhead technology.
Considered one of the greatest inventions in shipbuilding history, this technology is a traditional manual skill originating from southeast China's Fujian province. Therefore, it is also called the watertight-bulkhead technology of Fuchuan. "Fu" refers to Fujian province, and "chuan" means boat or ship. Hence, "Fuchuan" indicates a traditional Fujian-style wooden ship.
The technology can be traced back to the Tang dynasty (618-907) and was widely used from the Song dynasty (960-1279) onward. In 1974, an over-24-meter-long ancient Fuchuan was salvaged in Quanzhou Port of Fujian province and was proved to have been manufactured during the Song dynasty. It used the watertight-bulkhead technology and was later recognized as the oldest and largest wooden sailboat ever found.
Watertight compartments, also known as safety compartments, serve multiple purposes, including storing different types of goods, materials, and necessities for sailors. During months-long voyages in ancient times, this technology enabled sailors to plant vegetables and raise livestock. It was introduced to the West by explorer and writer Marco Polo, who traveled through Asia along the Silk Road between 1271 and 1295.
The core technologies in building a watertight-bulkhead ship are rabbeting and caulking. The rabbet jointing technology is vital for the sturdiness of the ship framework, while skills in caulking ensure a watertight seal. Camphor pine and fir timber are ideal raw materials, and artisans typically use oakum and tung oil-lime putty to fill in cracks.
In the past, the building of a watertight-bulkhead ship was led and coordinated by a grand master, well-versed in all of the core technologies. The master, joined by a group of other craftsmen, would use traditional Chinese woodcraft tools, such as a Luban Chi (carpenter's square), ink marker, axe, chisel, hand drill, and mace, each serving a unique purpose in the art of ship construction.
In 2005, a master named Chen Fangcai was assigned to reconstruct an ancient wooden ship from the Ming dynasty (1368-1644) using traditional technology. Chen and his team successfully made the ship with 13 watertight compartments. In 2008, the ship, "Princess Taiping," set sail from Xiamen city in Fujian province and successfully reached San Francisco in the United States after a few months.
Due to the development of the modern shipbuilding industry, the demand for Chinese junks sharply decreased as wooden vessels were replaced by steel-hulled ships. Consequently, the once well-received technology fell out of fashion, and some masters even resorted to making model ships to earn a living.
However, traditional shipbuilding continued to play an important role in the local culture of the coastal Fujian province. "Local communities participate by holding solemn ceremonies to pray for peace and safety during the construction and before the launch of a completed vessel," UNESCO said, adding that "transmission of this heritage is decreasing, and transmitters are forced to seek alternative employment."
To protect the technology and its inheritors, a series of measures have been taken in the recent decade, including enacting regulations for folk culture protection, documenting its transmission with audio and video, and setting up ship history museums which are free to the public.
Additionally, a life and social insurance system covering inheritors has been adopted. A comprehensive survey of watertight-bulkhead technology and its conservation has been conducted. Potential inheritors have been trained in cooperation with vocational schools, and seminars have been held to raise public awareness and encourage research and development.
Through these efforts, the technology has been better protected and passed down. In 2014, Fuchuan models became sought-after products at a cultural product trade expo in South Korea. In 2021, a new Fuchuan-themed cultural center was launched in Quanzhou city, Fujian province.
Discover more about China's intangible cultural heritage and their keywords:
• Item inscribed on UNESCO ICH list in 2022: Traditional tea processing
• Items inscribed on UNESCO ICH list in 2020: Wangchuan ceremony, Taijiquan
• Item inscribed on UNESCO ICH list in 2018: Lum medicinal bathing of Sowa Rigpa
• Item inscribed on UNESCO ICH list in 2016: Twenty-Four Solar Terms
• Item inscribed on UNESCO ICH list in 2013: Abacus-based Zhusuan
• Item inscribed on UNESCO ICH list in 2012: Training plan for Fujian puppetry performers
• Items inscribed on UNESCO ICH list in 2011: Shadow puppetry, Yimakan storytelling
• Items inscribed on UNESCO ICH list in 2010: Peking opera, acupuncture and moxibustion, wooden movable-type printing, watertight-bulkhead technology of Chinese junks