Ancestral Temple of the Chen Family (Chen Clan Academy) (陈家祠)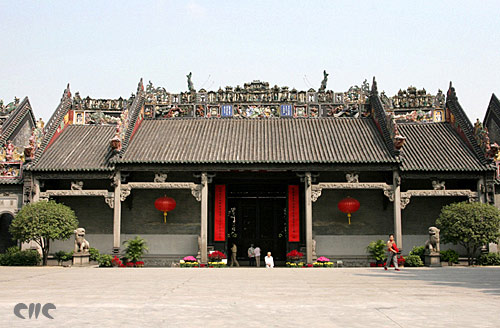 The Ancestral Temple of the Chen Family is an academic and spiritual temple in Guangzhou. The structure was finished in 1894 with the money donated by the Chen family. The temple consists of 19 buildings with nine halls and six courtyards, connected by corridors. It exemplifies traditional Chinese architectural style and has been well preserved.
The temple was listed as key cultural relic under state protection in 1988. It now also houses the Guangdong Folk Art Museum, which features a large number of works from southern China including wood carvings and pottery.
Address:No. 34 Enlong Lane, Zhongshan 7th Road
How to get there:Take bus No. 85, 88, 104, 107, 109, 114, 128, 193, 204, 233, 250, 260, 268 or 286 and get off at Chen Clan Academy Station.
Admission:20 yuan.
Hours:8:30-17:30
Tel:86-20- 81814559