Editor's note: Meshrep is a cultural gathering among the Uygur people, primarily in China's Xinjiang Uygur Autonomous Region. A complete Meshrep event encompasses a variety of traditional performing arts, including music, dance, drama, acrobatics, comedy, games, and folk arts.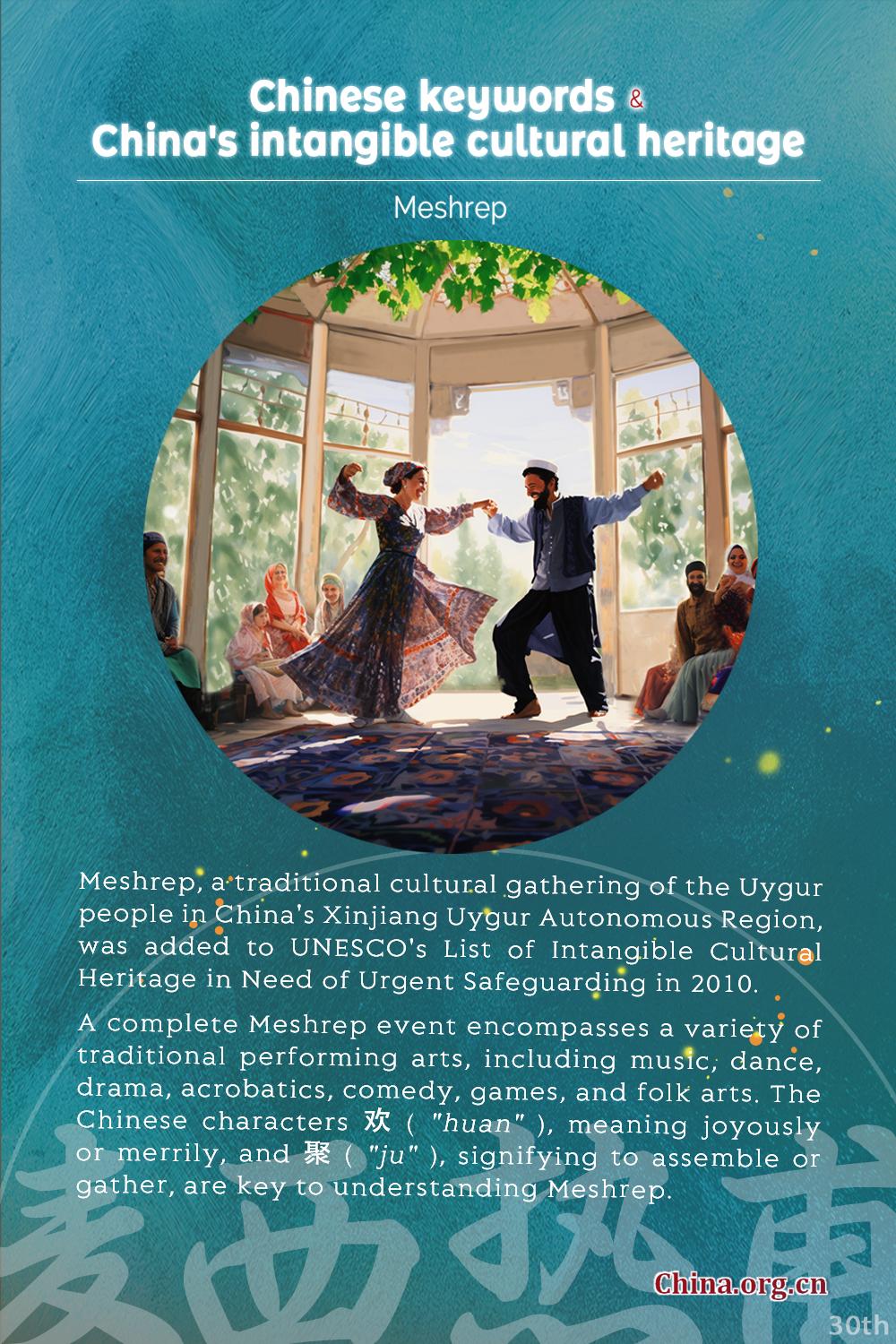 Meshrep was added to UNESCO's List of Intangible Cultural Heritage in Need of Urgent Safeguarding in 2010 due to a decreasing number of participants and transmitters, influenced by evolving societal trends and modern lifestyles.
The Chinese characters 欢 ("huan"), meaning joyously or merrily, and 聚 ("ju"), signifying to assemble or gather, are key to understanding Meshrep.
The ethnic Uygur people host various types of Meshrep events to mark traditional festivals and celebrations, and agricultural and animal husbandry-related activities. These events aim to foster sound family, friend, neighbor, and community relationships, and are important to work and life.
For example, spring is the season when the Uygur people place great importance on young crops; therefore, they hold a Kok Meshrep to pray for a promising future and a bountiful harvest. "Kok" is a Uygur word for young crops.
In the past, other common Meshreps included Huoxalik (festivity) Meshrep, designed for weddings, adulthood rites, harvests, and festivals; Dolan Meshrep, meant to honor the hunting life and bravery of ancestors; Namakul (apology) Meshrep, held to mediate conflicts or settle disputes; Keiyet (disciplinary) Meshrep, aimed at criticizing immoral behavior or educating the public; and Ketaphan (storytelling) Meshrep, serving as a sort of review of literature.
These different types of Meshreps cater to various aspects of work and life, transmitting arts, culture, knowledge, and life experiences, along with joy and pleasure. Three groups of people are key to Meshrep transmission: the event presenter, the invited folk artists, and the participants. The presenter must be a master of the traditions and capable of managing every aspect of the activities, ensuring the event progresses smoothly and enjoyably.
To better protect this tradition, workshops have been established for protecting and training Meshrep presenters and folk artists. Modern audio and video recordings have been produced, academic conferences convened to promote research, and college students majoring in Meshrep have been trained to become professionals, contributing to its sustainable development.
During July and August of this year, China hosted the 6th China Xinjiang International Dance Festival, attracting over 1,000 artists from around the world and showcasing about 60 performances, including ballet, folk dance, dance galas, and dramas. International dancers received a warm welcome and experienced a variety of traditional Xinjiang cultural activities, including Meshrep.
Discover more about China's intangible cultural heritage and their keywords:

• Item inscribed on UNESCO ICH list in 2022: Traditional tea processing
• Items inscribed on UNESCO ICH list in 2020: Wangchuan ceremony, Taijiquan

• Item inscribed on UNESCO ICH list in 2018: Lum medicinal bathing of Sowa Rigpa
• Item inscribed on UNESCO ICH list in 2016: Twenty-Four Solar Terms
• Item inscribed on UNESCO ICH list in 2013: Abacus-based Zhusuan
• Item inscribed on UNESCO ICH list in 2012: Training plan for Fujian puppetry performers
• Items inscribed on UNESCO ICH list in 2011: Shadow puppetry, Yimakan storytelling
• Items inscribed on UNESCO ICH list in 2010: Peking opera, acupuncture and moxibustion, wooden movable-type printing, watertight-bulkhead technology of Chinese junks, Meshrep