Hainan pledges funding for marine economy
South China's Hainan Province is planning to boost financial support to develop its marine economy, according to guidelines issued by the provincial government.
China's 2013 growth to reach 8.23%
Economic growth is expected to pick up 0.43 percentage points from last year to reach 8.23 percent in 2013, according to a report released Saturday.
Wu Ying appeals conviction for fraud
Wu Ying, once a highly successful businesswoman, has lodged an appeal against her conviction for fraud, her father said yesterday. Last May, Wu was re-sentenced to death with a two-year reprieve after a death penalty in her original trial 2009.
China 'to be in top income club in 10 years'
China will likely become a high-income country in 10 years, if the agricultural modernization process is able to sustain the country's economic development, a senior policy adviser said on Thursday.
China's currency expands its global reach
The Chinese mainland is turning to more partners around the world to launch the next phase of yuan internationalization, with each partner selected to play a role.
Huawei, ZTE hold most patents in 2012
Huawei Technologies Co. and ZTE Corp. were granted the most invention patents on the Chinese mainland in 2012, the intellectual property authority said Thursday.
Budget plans for SOEs show pessimism
Local governments have lowered their targets for revenue from State-owned assets for this year, reflecting the still-depressed prospects faced by local State-owned enterprises despite the economic growth getting back on track.
Companies struggle to find, keep workers
A labor shortage is sweeping through both the Pearl River Delta and Yangtze River Delta regions, the country's two major economic powerhouses.
China stresses continuity of property control policies
China will strictly implement and improve tightening measures on the housing market, and keep the policies continuous and steady, according to China's State Council, or the cabinet.
China's FDI inflow declines further in Jan
Foreign direct investment (FDI) inflow into China shrank by 7.3 percent year on year to $9.27 billion in the first month of 2013, the Ministry of Commerce (MOC) said Wednesday.
Cautious hope for financial 2013
Both developed and developing economies should seize the current opportunity for rebalancing and restructuring.
Paid leave seen as tourism boost
Better enforcement is the key to ensure almost all workers in China enjoy paid leave by 2020, a target set by the top tourism authority, experts said.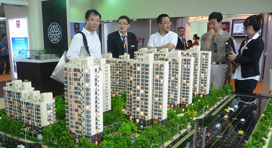 China's growth adds to global prosperity
China's sustainable development has contributed to the global recovery and growth.
Spring Festival tourism revenue up 15.4%
Tourism revenue in China rose 15.4 percent year on year during the week-long Spring Festival holiday, the National Tourism Administration said Saturday.
China's foreign trade still smaller than US
China's combined export and import volume in 2012 still ranked behind that of the United States when using the same method to measure, the Ministry of Commerce (MOC) said Wednesday.