China SOE reform back on track amid concerns
The reform of China's state-owned enterprises is back on track after a decade, however legislators have voiced their concern about the measures.
China to boost value of pension fund
Chinese lawmakers are now reviewing plans to help prop-up the country's pension fund through a broader-based investment scheme.
Guidelines for SOEs salary reform to come out this March
Salary reform for executives at state-owned companies has been underway for over a decade.
China's law reform
The city of Wenzhou is at the last step of a two-decade persistent pursuit as a draft revision to the Legislation Law expands legislative power from 49 Chinese cities to at least 284 nationwide.
'New normal' needs environment for entrepreneurship
The phrase "new normal" is becoming popular. People use it to describe many important changes in China.
Process for new statutes amended
China is poised to take a giant stride in bolstering the rule of law as the country's top legislature considers what is expected to be the final reading of a draft amendment to the Law on Legislation.
Issues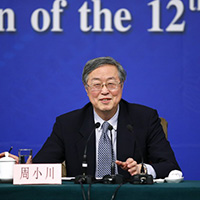 A prudent monetary policy has not been changed, as this year's M2 growth target is still moderate, said Zhou Xiaochuan, governor of the People's Bank of China, at a press conference during the two sessions on Thursday.
The military should be more open to the public by releasing appropriate navy and air force equipment information in a timely manner and setting regular military open days, a political adviser and senior officer suggested.
A Chinese diplomat said in an exclusive interview with China.org.cn that he hoped Asian countries can focus on development issues and unite Asia in the future.
Writer Chi Li rarely visits bookshops anymore and instead buys online as she believes it is difficult to find what she calls "real" books on shop shelves.
The "Belt and Road" Initiative will benefit China as well as all countries along the routes. Shared development is a prime opportunity in shaping the Chinese dream.